Next Meeting – Wednesday, February 22, 2023 at 7:00 PM – Online Only
Zoom opens at 6:30 PM for informal pre-meeting meeting.
For logistical reasons, this meeting will be online only. We hope to return to hybrid meetings at some point.
Guest speaker Fred Cirera, W6BSD will present, "Digital Voice Modes for Amateur Radio". You don't need a General or Extra class license to enjoy QSOs with people worldwide. All amateur license classes can use Digital Voice (DV) modes such as Fusion, D-Star, DMR, and many others to connect with people throughout the US and other countries using digital repeaters or amateur hotspots. During his presentation, Fred will discuss the differences between the DV modes and how the backend infrastructure works.
Online via Zoom: https://us06web.zoom.us/j/2695622043?pwd=WEJwSkhYYWtyZndjbitJQXFFNWY4dz09
Meeting ID: 269 562 2043
Passcode: 362611
One tap mobile:
+13126266799,,2695622043#,,,,*362611# US (Chicago)
+16469313860,,2695622043#,,,,*362611# US
Find your local number: https://us06web.zoom.us/u/kvk7xrZVv
WARA has a new president: Eric Balles, W1ENB
At the September 28, 2022 club meeting, Eric Balles, W1ENB, was unanimously elected as the new president of the Waltham ARA. Rich Comer, K1RBC, and Eliot Mayer, W1MJ, were re-elected into their roles as Treasurer and Assistant Treasurer, respectively. The positions of Vice President and Secretary remain open.
Fox Hunting Program at April 27 WARA Meeting
Hidden transmitter hunting, also called fox hunting, has enjoyed a resurgence in the Boston area over the past few years. It is an activity that combines amateur radio, exercise, fresh air, and puzzle solving. It can even be turned into a family activity.
The online Waltham ARA meeting on Wednesday evening, April 27, 2022, featured a fox hunting program, with the goal of bringing new people into this activity. Eliot W1MJ, Jeff AC1JR, and Pat K1PJW shared their experiences – what works, and what doesn't work – and answered questions.
While some fox hunters use fancy equipment, we described how a transmitter can also be located using only a handheld 2M radio with the "body fade" method.
To receive notifications about upcoming hunts in our area, sign up at https://groups.io/g/NEMassFoxHunters.
Presentation Slide Shows: by Eliot, W1MJ | by Jeff, AC1JR
---
The Waltham ARA Repeater Site in Prospect Hill Park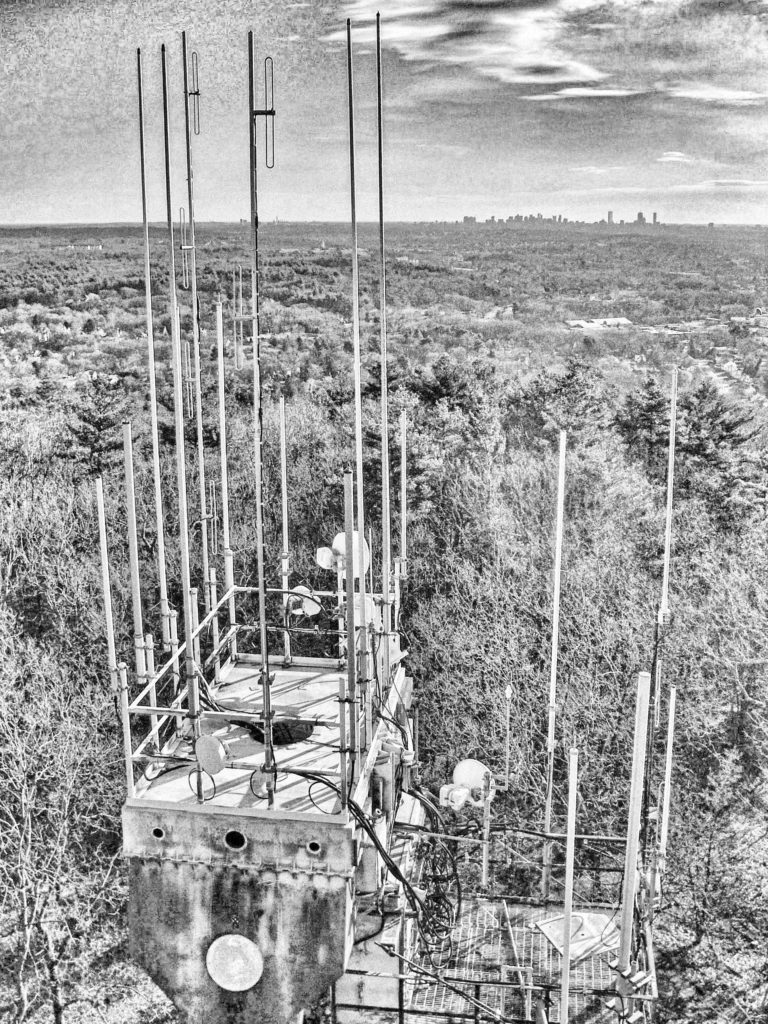 WARA 2019 Holiday Party
Hopefully we will be able to do it again at some point.
Great picture of the repeater site – from Mt. Wachusett!
While at Boxboro a fellow HAM W1AWX introduced himself and showed me this great pic of WARA's site taken from almost 40 miles away! Thanks Arthur! -Ron / KG1T

"The Jack and Sal Radio Show"
An artistic 04/64 listener named Ruth (that is all we know about her) has sent us this masterpiece of caricature, and provided this name for the commuting-time discussions on our flagship repeater.
Older Posts
Most older posts removed from this page are still available for historical purposes on our
Blog
.