Officer Elections & Field Day Planning
Officer Elections: We will be holding elections on Wednesday May 25th, during our monthly Waltham ARA Chime (online) meeting to fill two vacancies: President and Secretary. For the club to continue to function, we need members to volunteer and assume a little bit of extra responsibility. These are 1-year positions. Anyone interested in either of these positions should contact Rich Comer, K1RBC, at rich.comer@live.com to have their name placed into nomination.
Field Day Planning: This year's ARRL Field Day is June 25-26th. Last year's outing on Crow's Island in Stow, MA was a resounding success and current thinking is to return this year. To make this happen though, the club is looking for 2 or 3 people to form an ad-hoc Field Day committee to plan equipment, food, etc. and take the lead. If you are interested, please e-mail Rich Comer, K1RBC, at rich.comer@live.com. We will kick off planning at the 25th meeting after the election of officers.
Patricia A. Pellegrini Obituary
https://www.bedfordfuneralhome.com/obituary/patricia-pellegrini
Raised in North Smithfield, Rhode Island, she was the daughter of the late Charles and Dorothy (Keegan) Quinn.
Patricia A. Pellegrini, 77, of Bedford, died suddenly on April 29, 2022.
Mrs. Pellegrini graduated from Woonsocket High School, Class of 1962 and went on to attend Northeastern University where she received her Bachelor of Arts. While at Northeastern, she met Paul Pellegrini and they were married in 1966.
In 1972, they moved to Bedford to start their family and she decided to further her education, receiving her Master of Education from Harvard University.
Mrs. Pellegrini was a lover of history and for 34 years, she taught Social Studies at Bedford High School as well as Psychology elective courses.
She volunteered as a historical tour guide at the Job Lane House for many years and was a member of the Bedford Historical Society and the First Parish Bedford. She enjoyed art and spending time painting.
She is survived by her loving husband, Paul W. Pellegrini, her beloved daughter, Mary Pellegrini Wood and her husband Brendan of Malden, cherished granddaughter, Willow and dear brother-in-law, John Pellegrini of Kentucky.
Visitation will be held at the Bedford Funeral Home, 167 Great Rd., Bedford, on Thursday, May 5, from 4:00-7:00 PM.
Funeral services will be private.
In lieu of flowers, memorial contributions can be made to CSF of Bedford Dollars for Scholars, P.O. Box 585, Bedford, MA 01730 or Bedford Historical Society, 16 South Rd., Bedford, MA 01730.
Learn How to Fox Hunt at April 27 WARA Meeting
Hidden transmitter hunting, also called fox hunting, has enjoyed a resurgence in the Boston area over the past few years. It is an activity that combines amateur radio, exercise, fresh air, and puzzle solving. It can even be turned into a family activity.
The online Waltham ARA meeting on Wednesday evening, April 27, 2022, will feature a fox hunting program, with a goal of bringing new people into this activity. Eliot W1MJ, Jeff AC1JR, and Pat K1PJW will share their experiences – what works, and what doesn't work – and answer your questions.
While some fox hunters use fancy equipment, we will show you how a transmitter can also be located using only a handheld 2M radio with the "body fade" method.
WARA members will receive a link to the meeting by email. If you are not a WARA member and would like to receive the link, you can SIGN UP HERE.
Online Meeting Signup
The Waltham ARA meetings are presently held online. If you are not a WARA member, but would like to be notified of our meetings and receive the link, you can now SIGN UP HERE.
---
Skip K1NKR was kind enough to put together a nice summary of W1M Field Day 2021. This was a joint operation of the Waltham ARA and the Algonquin ARC
https://walthamara.org/wp-content/uploads/2021/07/2021_W1M_Field_Day_Report.pdf
Thanks everyone who came out for a great time! I will post the final tally of contacts made once I have received word that they have been submitted.
-Ron / KG1T
The Waltham ARA Repeater Site in Prospect Hill Park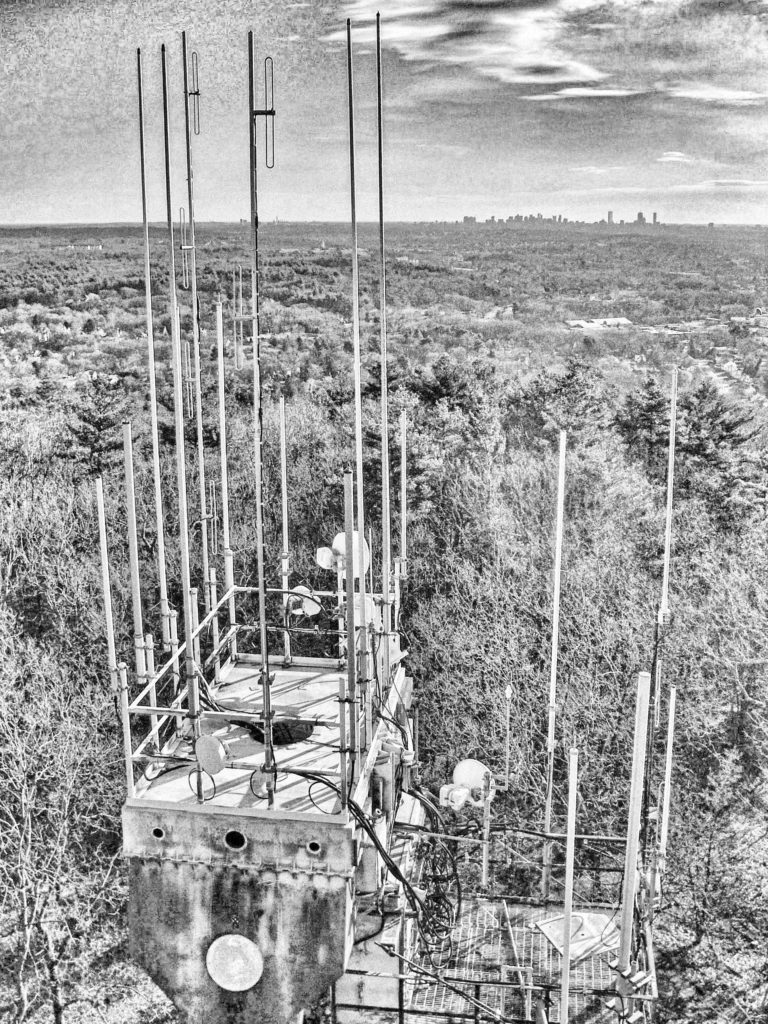 WARA 2019 Holiday Party
Hopefully we will be able to do it again this December.
Great picture of the repeater site – from Mt. Wachusett!
While at Boxboro a fellow HAM W1AWX introduced himself and showed me this great pic of WARA's site taken from almost 40 miles away! Thanks Arthur! -Ron / KG1T

"The Jack and Sal Radio Show"
An artistic 04/64 listener named Ruth (that is all we know about her) has sent us this masterpiece of caricature, and provided this name for the commuting-time discussions on our flagship repeater.
Older Posts
Most older posts removed from this page are still available for historical purposes on our
Blog
.